If you use call tracking to keep track of the calls and leads you get from your Google Ads, you probably know that it can be difficult to figure out which ads your calls are coming from, and which ones are most effective at bringing in leads. Watch the video below or read on for our best tips and ways to optimize your call tracking to get the best conversion rate out of your Google Ads!
***
Why Does it Matter?
As with many of the tools and optimization tips we try to implement in digital marketing, it's all about the Conversion Rate! When a user comes from a Google Ad to your website, it is invaluable to be able to determine which ad they've clicked on. This is especially true if you have your ads set up to focus on getting leads, as we and many of our clients do. But these lead campaigns are only as effective as their tracking, as that will show us how effective each individual ad is at conversion.
What's the Problem?
When a user clicks on a Google Ad that takes them to your website, then the user calls a phone number on the website and then is converted to a lead or sale, Google doesn't have a way to track that conversion.
Google AdWords does have their own article on how to track this, but it's not the easiest thing to use. In theory, when a user clicks on your ad, Google swaps out the phone number on your website for a phone number that Google generates. Then, if someone dials that number, Google knows which campaign and ad each call comes from, as well as users' search terms and other helpful information.
In order to effectively track these activities, we have to be able to test these phone numbers. Google's recommendation is to simply click on your ad, which would be effective. However, when you are running Google Ads, you have to pay for every click, even when you click it yourself, so it can get very expensive, very quickly.
But we've been using a free tool that helps us track these leads and conversions, leading to better-optimized and improved ad targeting.
How Do We Solve It?
This free method of tracking actually uses tools within Google AdWords itself. This appendix can be typed at the end of any web URL: /#google-wcc-debug
Once that's added to the URL and the page is refreshed, a window will appear in the bottom left labeled "Google AdWords Website Call Conversions."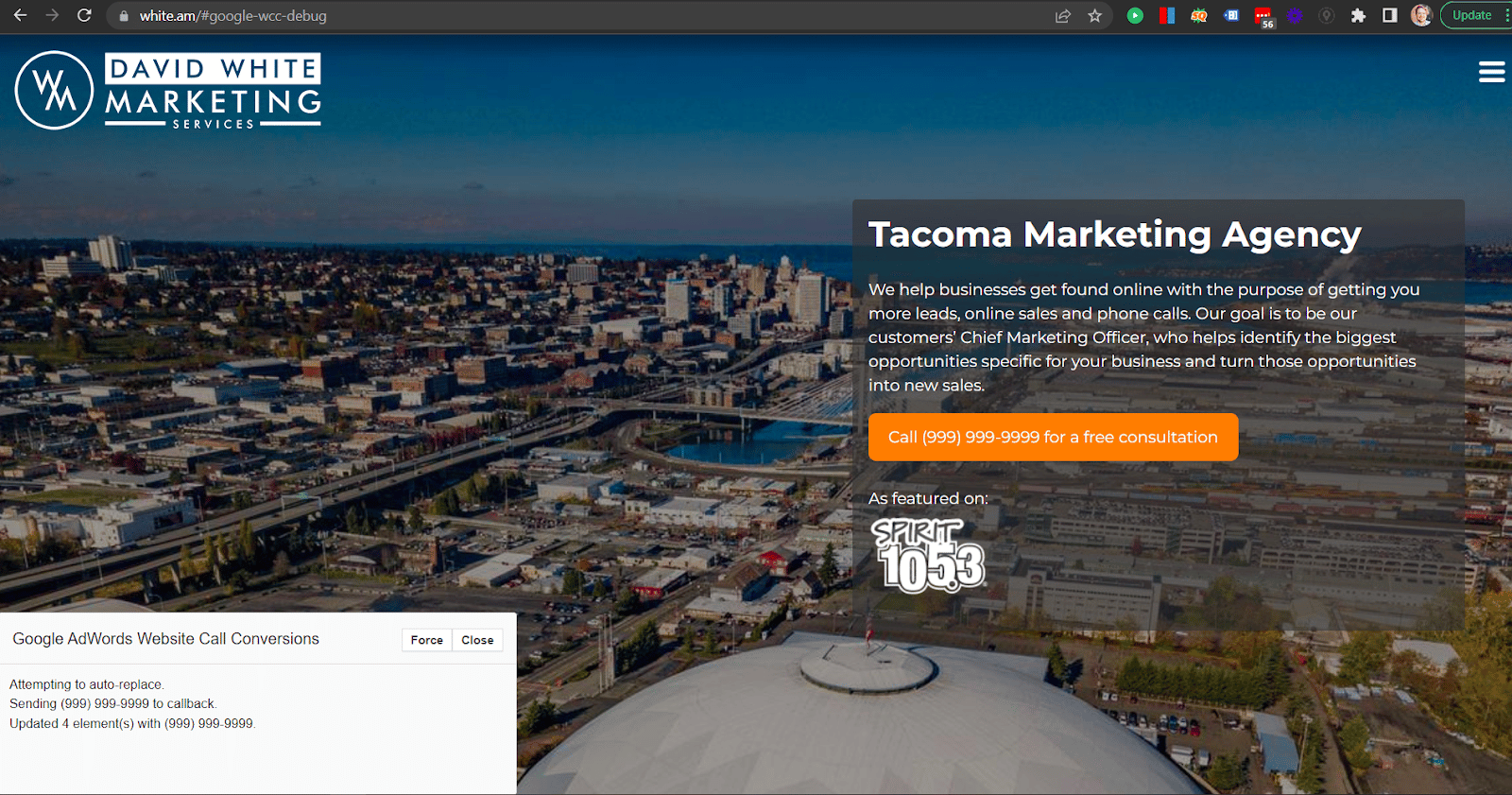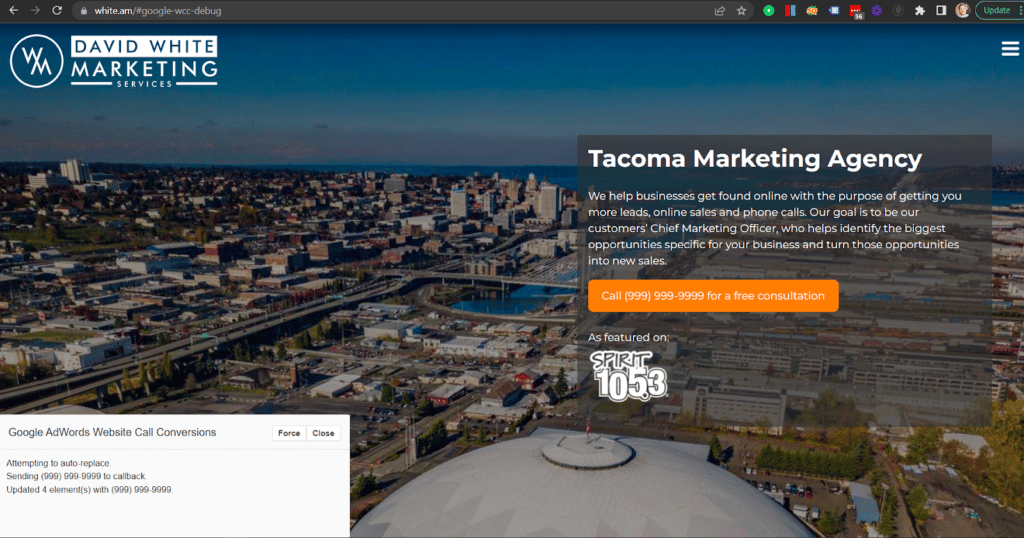 Once you click "Force," this will try to swap out the phone numbers based on the code. If the number of swaps and the places the numbers have been swapped match up with what you were expecting, then your tracking is set up correctly and you're good to go.
If something doesn't match up, then you know where you need to go in and fix something to make sure your ads are connecting correctly.
If you want to learn more about how we use Google Ads and call tracking, or are just looking for someone to help out with digital marketing in general, we would be more than happy to help! Just give us a call at (253) 224-4891 or send an email to [email protected].